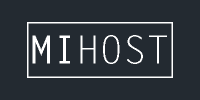 Introduction
There isn't that much information available on MI Host and they look to be new but they come recommended and their plans offer very good value for money.
Linux Shared Hosting
The greatest thing about these packages are that there's no limit on the amount of websites that may be hosted on them. You are only limited by the amount of space you have. You also get unlimited emails and databases.
Bronze
Unlimited Web Traffic
0.1 GB Storage Space
Unlimited Email Accounts
Unlimited Databases
No Free .co.za Domain
Unlimited Domains Allowed
Silver
Unlimited Web Traffic
0.5 GB Storage Space
Unlimited Email Accounts
Unlimited Databases
No Free .co.za Domain
Unlimited Domains Allowed
Gold
Unlimited Web Traffic
1 GB Storage Space
Unlimited Email Accounts
Unlimited Databases
No Free .co.za Domain
Unlimited Domains Allowed
Elite
Unlimited Web Traffic
2 GB Storage Space
Unlimited Email Accounts
Unlimited Databases
No Free .co.za Domain
Unlimited Domains Allowed