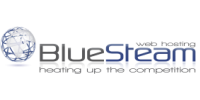 Introduction
BlueSteam's servers are hosted in the UK so it's ideal if you have an international target with regards to your websites. They actually have a phone number available on their site and offer 24/7 hour support. Something that a lot of hosting companies is missing these days.
Linux International Hosting
Every hosting package comes with a 30 day money back guarantee.
Ice Pack
Unlimited Web Traffic
750 MB Storage Space
Unlimited Email Accounts
Unlimited Databases
No Free .co.za Domain
1 Domain Allowed
Liquid Pack
Unlimited Web Traffic
3 GB Storage Space
Unlimited Email Accounts
Unlimited Databases
Yes Free .co.za Domain
10 Domains Allowed
Vapor Pack
Unlimited Web Traffic
5 GB Storage Space
Unlimited Email Accounts
Unlimited Databases
Yes Free .co.za Domain
25 Domains Allowed
Steam Pack
Unlimited Web Traffic
10 GB Storage Space
Unlimited Email Accounts
Unlimited Databases
Yes Free .co.za Domain
50 Domains Allowed
Linux Local Hosting
Ice Pack
Unlimited Web Traffic
750 MB Storage Space
Unlimited Email Accounts
Unlimited Databases
No Free .co.za Domain
1 Domain Allowed
Liquid Pack
Unlimited Web Traffic
3 GB Storage Space
Unlimited Email Accounts
Unlimited Databases
Yes Free .co.za Domain
10 Domains Allowed
Vapor Pack
Unlimited Web Traffic
5 GB Storage Space
Unlimited Email Accounts
Unlimited Databases
Yes Free .co.za Domain
25 Domains Allowed
Steam Pack
Unlimited Web Traffic
10 GB Storage Space
Unlimited Email Accounts
Unlimited Databases
Yes Free .co.za Domain
50 Domains Allowed